Ms. Sharmin Zaman, Chief Marketing Officer (CMO) of Summit Communications Limited (SComm) presented the journey of Summit Communications in the context of sustainability and ESG at the CXO Summit 2022. The Summit was arranged by Valor of Bangladesh at Radisson Blu Dhaka Water Garden on 3rd December 2022. Ms. Sharmin shared the stage in the forum with top industry leaders from different sectors of our country. More ...
The closing ceremony of the Development of National Information and Communication Technology Infrastructure (Info-Sarker 3rd Phase) was organized at the Sheraton Dhaka Hotel on 22nd November, 2022 (Tuesday). More ...
Our honorable MD & CEO Md. Arif Al Islam has been elected as a Council Member of ACCA Global in the 117th Annual General Meeting of ACCA this year. He has become the first-ever global council member of ACCA from Bangladesh. More ...
Fadiah Khan awarded by Women's Indian Chamber of Commerce and Industry (WICCI) for contribution in technology More ...
Summit Communications Limited has been recognized with "President's Award for Industrial Development- 2019" under the Hi-Tech Industry category by the Ministry of Industries of the Government of the People's Republic of Bangladesh. His Excellency, President of the People's Republic of Bangladesh Mr. Md. Abdul Hamid has graced the occasion with his virtual presence as the Chief Guest. More ...
CMO Asia & World Women Leadership Congress has awarded Ms. Sharmin Zaman, CMO of Summit Communications as "Asia's Woman Leaders" at an event recently held in Taj Lands End, Mumbai. Women leaders from Netflix India, CNN International, and Dialog Axiata Plc. have also shared this prestigious platform with her. More ...
Summit Communications Limited is going to arrange a national level stakeholder discussion session on Environmental and Social Impact of fiber optic cable deployment to be held on Tuesday, 20 April 2021, at 11.00 am.
You are cordially invited to join the discussion session by clicking the following link. More ...
Summit Communications Limited has been awarded the "Highest VAT Payer" at the national level under the service category by National Board of Revenue. Our Managing Director & CEO Md. Arif Al Islam received the award from NBR Chairman Abu Hena Md Rahmatul Muneem in an exclusive event. More ...
(Dhaka) 26th November 2020, Thursday: Summit Towers Limited (STL), a subsidiary of Summit Group today announced at a signing ceremony that it has been awarded to build two hundred and fifty nine telecom towers on build-to-suit basis. The award of this contract marks a significant milestone for Summit Towers and commencement of a long-term partnership with Banglalink. Together with Banglalink, STL targets to complete the project of building these 259 towers by January 2021. STL plans to rollout throughout the country with Banglalink as well other MNOs by building more towers in the coming years. More ...
Summit Towers Limited has activated the first ever mobile tower in Siddhirganj, Narayanganz on 16th November, 2020. According to the agreement with Banglalink, one of the leading digital communications service providers in Bangladesh, Summit Towers Limited will be delivering around 259 Towers in the upcoming months. More ...
Summit Communications Limited (SComm) has signed the Contract of Info Sarker Phase 3 Project, which is the largest ever ICT project in Bangladesh. The project is aimed to help the Government to provide services up to Union Level. The objectives of the project is to expand the network to 2600 selected Unions, to strengthen the capacity of Union Centers (UDCs) to provide connectivity to offices, ...
Summit Communications Limited (SComm) has successfully completed Info-Sarker Project Phase-II much ahead of the schedule. The project aimed at expanding the Government's network with optical fiber infrastructure to all the districts and upazillas across the country, using ICT system within the public administration to improve efficiency, accountability and transparency, reducing wastage of resources, enhancing planning and raising the quality of services.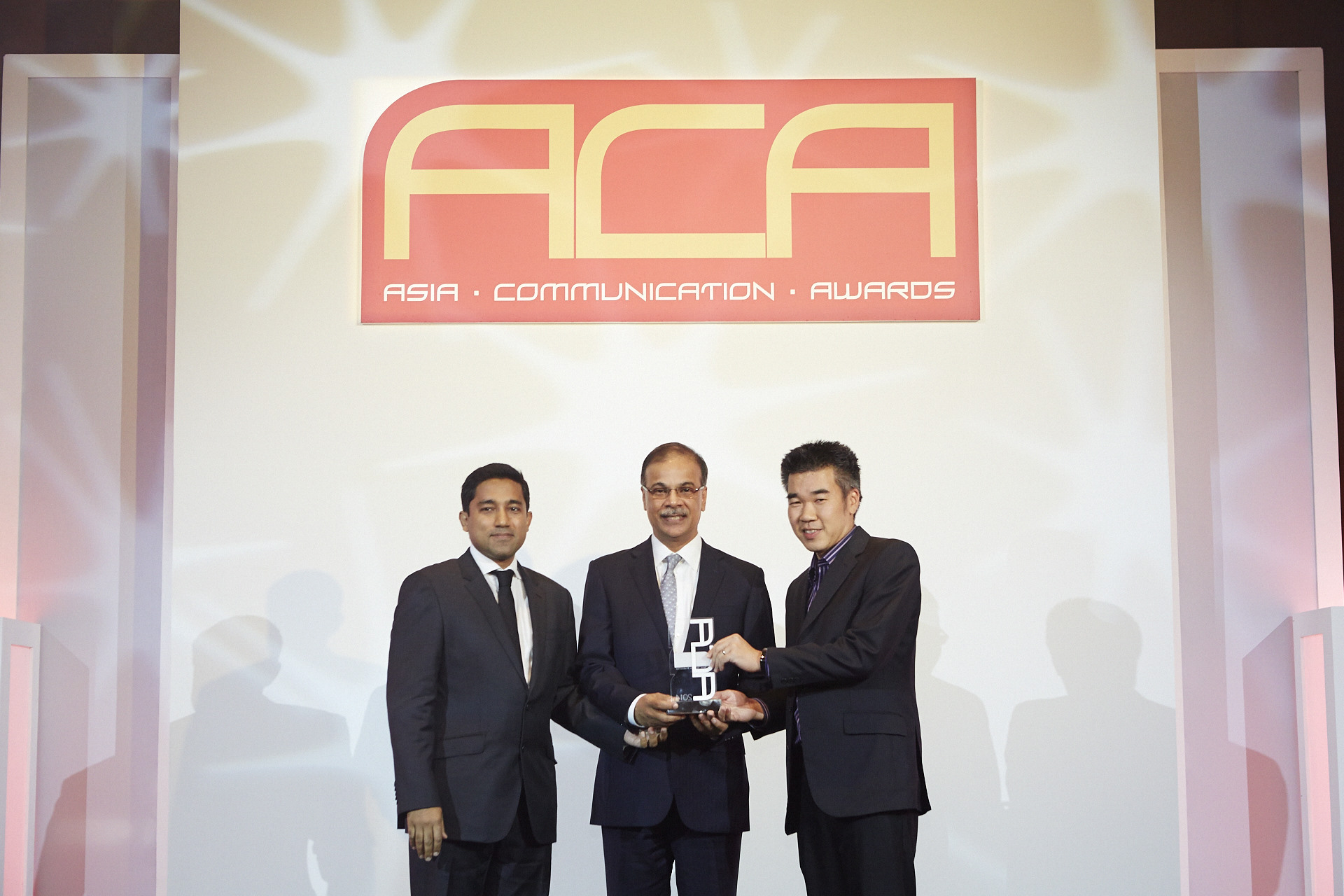 Summit Communications Ltd receives "Best Emerging Market Initiative" award at Asia Communication Awards 2014
Summit Communications Limited won Asia Communication Award 2014 in the category of "Best Emerging Market Initiative" on June 19, 2014 at Singapore.
Muhammad Aziz Khan, Chairman of Summit Group and Md Arif Al Islam, Managing Director of Summit Communications Ltd received the award for Best Emerging Market Initiative from Tian Unp Ping, Assistant Vice President, Mobility, Starhub.
Summit Communications Gears Up for Bangladesh Mobile Data Explosion With Juniper Networks
Summit Communications Gears Up for Bangladesh Mobile Data Explosion With Juniper Networks
Transmission Network Operator Deploys Juniper Networks ACX Series for Mobile Backhaul
DHAKA, BANGLADESH--(Marketwired - Dec 3, 2013) - Juniper Networks (NYSE: JNPR), the industry leader in network innovation, today announced that Summit Communications Ltd. -- one of Bangladesh's two nationwide transmission network service providers