Muhammed Aziz Khan
Chairman, Summit Group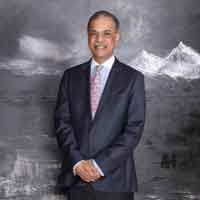 Muhammed Aziz Khan (Aziz Khan Wikipedia) is the founder and Chairman of Summit Power International Limited, Summit Holdings Ltd and IPCO Resorts (Bangladesh) Limited . Summit Group is the largest infrastructure group in Bangladesh and employs over 6,000 people. The Group has investments in the energy sector, ports, logistics, information technology and hospitality.
Under the leadership of Muhammed Aziz Khan, Summit set up the first Independent Power Plant in Bangladesh in 1998, Khulna Power Company Limited (KPCL). Currently, Summit generates more than 1,950 megawatts (MW) of electricity and is by far the largest independent power producer in Bangladesh. A further 600 MW of electricity generation facility is presently under construction by Summit (75%) and GE (25%) and 2,400 MW is under development. Summit has also set up Bangladesh's first private off-dock port facility, Summit Alliance Ports Limited which handles about 25% of Bangladesh's export volume and about 7% of the country's import volume. Summit Communications Limited , another company founded by Muhammed Aziz Khan, is the first company to lay a Bangladesh-wide fibre-optic transmission network. Summit Communication Limited's fibre optic cables cover the entirety of Bangladesh, with over 47,000 kilometres of laid fibre. The company also connects Bangladesh to India through terrestrial fibre optics and SEA-ME-WE-4 and SEA-ME-WE5 to Singapore and Europe.
Summit Power Limited (SPL), Summit Alliance Ports Limited (SAPL) and Khulna Power Company Ltd (KPCL) are subsidiaries of Summit Group and are currently listed in the Dhaka and Chittagong Stock Exchanges with a combined market capitalization of about BDT 100 Billion.
In the past decade, under the leadership of Muhammed Aziz Khan, Summit Group has become an international player with presence outside Bangladesh, and partnerships with some of the largest companies around the globe. In 2016, Summit entered into a partnership with IFC of the World Bank Group and co-investors and formed Summit Power International Limited, with its registered head office in Singapore. Besides, Summit also entered into an agreement with General Electric of USA (GE) for development of gas-to-power project in the South Asian Region. An MOU was also signed with Wärtsilä of Finland, for cooperation in the Bangladesh, Indonesian market and South Asia. Under his leadership, Summit has accepted investment from JERA Co Ltd as a strategic shareholder and Mitsubishi, GE and Taiyo Insurance as equity partners in specific projects.
Muhammed Aziz Khan was born in 1955. He has an MBA from the Institute of Business Administration (IBA), University of Dhaka. Mr. Khan is also the Chairman of Siraj Khaleda Trust and former President of Bangladesh Association of Publicly Listed Companies (BAPLC), he is a member of the Prothom Alo Trust and was also the founder President of Bangladesh Scouts Foundation and Bangladesh Energy Companies' Association.
Muhammed Aziz Khan is the Honorary Consul General of Finland to Bangladesh.
Muhammed Aziz Khan is married to Anjuman Aziz Khan and has three daughters, Ayesha, Adeeba and Azeeza.
Md. Farid Khan
Chairman, Summit Communications Limited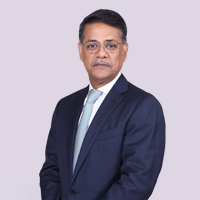 Mr. Muhammad Farid Khan was born in July 1960 and completed his Bachelors in Business from Dhaka University. He started his business career in 1980, working side by side with his brother Mr. Muhammed Aziz Khan trading plastic compounds, fertilizer and other commodities. He played an integral role in establishing and developing Summit Industrial and Mercantile (Pvt.) Limited in 1985. Mr. Khan pioneered export of molasses and fertilizer from Bangladesh.
His key entrepreneurial skill and expertise focuses in the establishment and development of new and innovative projects. He was solely instrumental in setting up the Liquefied Petroleum Gas ("LPG") project and storage tank terminal at Mongla under Khulna district. As Summit implemented the first Independent Power project (IPP) in Bangladesh, Mr. Khan took charge of Summit Power Limited as it's Vice Chairman in 2007 and established it's foundation. SPL is now publicly listed in the Dhaka and Chittagong stock exchanges and generates 336 MW of electricity for Bangladesh.
In 2010, Mr. Khan gave up his position as Vice Chairman of SPL and shifted his focus into attaining hi technology prospects that would digitalize Bangladesh and swift global connectivity. He took responsibility of Summit Communications Limited as it's Vice Chairman to strengthen Summit's role as a catalyst for the introduction of new and pioneering businesses in Bangladesh. Under his guidance, SComm spearheaded into that market by constructing an innovative and efficient optical fiber network architecture nationally. Mr. Khan intends to expand this connectivity beyond the borders of Bangladesh along with introducing other connectivity services nationally and globally.
Besides his interest in promoting hi technology business, Mr. Khan as Vice Chairman is directly involved with Summit Group in it's entirety, strategizing and mapping out future prospects especially in areas of infrastructure development and economic potential.
Mr. Khan is a member of Siraj Khaleda Trust and promotes education for underprivileged children in Bangladesh. He also sponsors several autistic children in the Society for Education of the Intellectually Disabled (SEID). Currently, he plays an active role in overseeing the construction and development of a low cost hospital that Summit hopes to donate by the end of 2011.
Mr. Khan serves on the board of directors of Summit Industrial and Mercantile (Pvt.) Limited, Summit Power Limited, Summit Communications Limited, Summit Shipping Limited, Khulna Power Company Limited, Summit Bibiyana 1 Power Company Limited, Summit Bibiyana 2 Power Company Limited, Summit Meghnaghat Power Company Limited, IPCO Hotels and Resorts Ltd and IPCO Developments Ltd.
Md. Arif Al Islam
Managing Director and Chief Executive Officer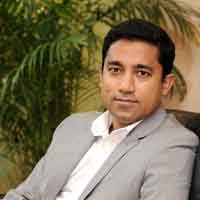 Md. Arif Al Islam, former Deputy CEO and CFO of Grameenphone joined Summit Communications Limited as Managing Director and Chief Executive Officer. He is also one of the shareholders of the company. Mr. Islam is an FCCA by profession and has 21 years of experience in public practice and industry. He started his career as trainee auditor in public practice in UK in 1993 and over five years worked with couple of chartered accounting firms there. He gained a range of experience in audit, tax and consultancy services and became a senior auditor. He qualified in 1998. Then he joined KPMG, Bangladesh as a Senior Manager being responsible for a port-folio of clients for audit and consultancy services. Later he joined Grameenphone, the largest cell phone operator in Bangladesh and contributed to the telecommunication industry for a decade. He finally held the position of Deputy CEO and CFO in Grameenphone.
Among his many achievements, he played key role in setting the strategy and business plan of Grameenphone since a very early stage, taking the company to public listing and achieving operational excellence through both due process and leadership development. In his career, he has attended many international executive training programs, as well as participating in management and technical trainings locally and internationally.
As CEO and MD of Summit Communications Ltd, he has ushered in a successful era of expansion both in terms of network architecture, license acquisition and revenue stream. Bolstered by a strong team of professionals, his leadership has been instrumental in bringing Summit Communications Ltd to where it is today.
Fadiah Khan
Executive Director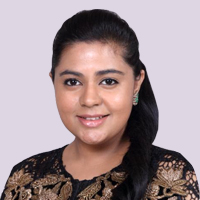 Fadiah khan, Board Member and Executive Director, joined Summit Communications Limited with a role to set strategy, HR developments and oversee shareholders organizational development agenda. Together with the IT team, she has devised inventory, human resource management and project management software, as she believes that the success of any business lies in internal efficiency coupled with gratified employees. She is also involved in other strategic matters and projects at Group level.
Alongside the corporate aspects of SComm, Ms. Khan believes that connectivity should not be considered a novelty and thereby is working on extending basic connectivity to the most rural areas of Bangladesh as a social responsibility. Ms. Khan began her professional career by training at the various companies within Summit Group, initially involving herself in the mega power infrastructure projects.
From 2011, interested in nanotechnology, Ms. Khan engaged herself with Summit Communications Limited (SComm) and soon after began serving on its Board.
Ms. Khan completed her International Baccalaureate (IB) from United World College of South East Asia and thereafter in 2010 completed her Bachelors of Science in Biotechnology from George Mason University, Virginia while fulfilling the major required classes from Harvard University, Massachusetts. In 2014, Ms. Khan completed her Masters in Business and Finance Management from University College London (UCL), UK.
Md. Forhad Hossain, FCA
Chief Financial Officer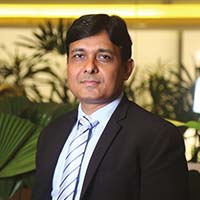 Md. Forhad Hossain, FCA has been serving as Chief Financial Officer in Summit Communications Limited since March, 2017. Prior to joining Summit Communications Limited, he served in Union Capital Limited as Chief Financial Officer for more than 3 years and played an instrumental role in establishing financial discipline, cost optimization, enterprise-wide risk assessment. He took part in various training courses, seminars and workshops in home and abroad on core risk management, good governance, auditing, budgeting, financial control & reporting.
Mr. Hossain started his career with Warid Telecom International Bangladesh Limited. He also served at Rahimafrooz (Bangladesh) Limited for 2 years. He further served as Senior Manager, Finance & Accounts for 3 years at IPDC of Bangladesh Limited.
Mr. Hossain is a Fellow Member of the Institute of Chartered Accountants of Bangladesh (ICAB). He has completed his Bachelors of Business Administration and Masters of Business Administration from University of Dhaka, having a major in Accounting and Information Systems. He has completed articleship from KPMG Rahman Rahman Huq, Chartered Accountants, a member firm of the KPMG International in the process of being a member of ICAB.
Brigadier General Ali Murtoza Khan
Chief Corporate Affairs Officer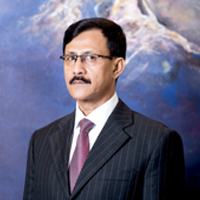 Brigadier General Ali Murtoza Khan, ndc, afwc, psc, has been a veteran leader in Bangladesh Army in his Military career. In his career, he had served in number of Infantry units and commanded one of the well reputed Infantry units of Army. He has also worked as the principal staff officer in one of the Infantry Brigade Headquarters and in an Infantry Divisional Headquarters. He too held the appointment as the Chief Instructor in Non Commission Officers' Academy. Moreover, as senior officer, he commanded the President Guard Regiment, an Infantry Brigade, East Bengal Regimental Centre and as the Region Commander of Border Guards Bangladesh. He was also served as the UN Military Observer and Senior Operation Officer in the UN Mission in Rwanda and Ivory Coast respectively.
Mr. Khan has joined Summit Communications Limited in January, 2017 as the Chief Corporate Affairs Officer. He is in charge of regulatory affairs, legal, company administration and corporate affairs of the company maintaining liaison with all relevant regulatory bodies and key stakeholders.
Mr. Khan has obtained Masters on Defense Studies from National University and Masters of Security Studies from Bangladesh University of Professionals. He participated in number of professional training courses, seminars and workshops both home and abroad.
Sharmin Zaman
Chief Marketing Officer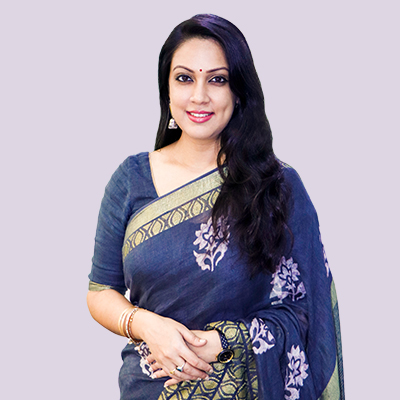 Ms. Sharmin Zaman, a successful marketing leader with the track record of building couple of the most successful brand names of the country. She has been instrumental in building and marketing the largest fiber optic infrastructure of the country from scratch with an entrepreneurial approach. She possess extensive experience in formulating corporate strategy, B2B Sales, Market Segmentation, Market Research and Customer Relationship Management. An adept professional with entrepreneurial mindset, assertive approach, exemplary work ethic and relentless in exploring brilliance from business perspective. Her contribution in building Summit Communication Limited (SComm) as the largest telecom & ICT infrastructure operator of the country in only 9 years demonstrated her extra-ordinary ability in marketing and organizational leadership. She has been successful in building a customer centric culture through designing right product and services and maintaining target driven culture. She has successfully negotiated and closed large deals with global upstream connectivity providers like Tata, Bharti Airtel, Singtel and NTT Communication etc.

Ms. Zaman completed her Bachelor's in Business Administration from North South University, Dhaka and higher Studies on management program from National University of Singapore (NUS) & IIM Ahmedabad. She started her career with the largest mobile operator Grameenphone Ltd. and contributed in building a team orientated high performance culture.

Being passionate and promising contributor in the field of women empowerment, she dreams women of Bangladesh will contribute equally in its national economy in all segments. She believes mindset shift and support from the family are must for a woman to be successful in career. She advocates for congenial atmosphere for women at workplace.
K.M. Tariquzzaman
Chief Technology Officer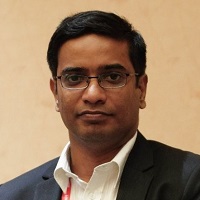 K.M. Tariquzzaman has around 20 Years of experience in mobile Telephone industry development in Bangladesh. In various capacities he led different teams in Grameenphone, the leading mobile network operator of Bangladesh, during his stint there including combined network & IT planning, Technology strategy among others before joining SComm as CTO. Tariq is a graduate of Electrical & Electronic Engineering from BIT Rajshahi.
Md. Asif Hossain
Chief Human Resources Officer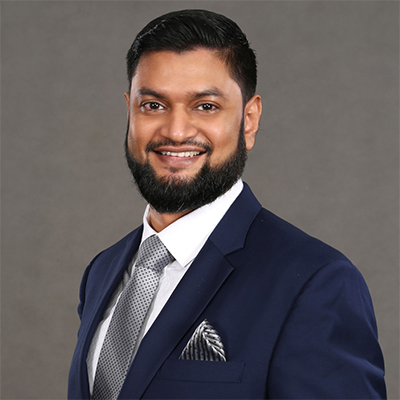 Md. Asif Hossain started his journey with Summit Communications Limited in 2012 and has successfully held several leadership roles within the organization. For nearly a decade, he led numerous transformations in SComm using his business acumen. Through consistent and relevant HR strategies, he harnessed operational performance & efficiencies all across the organization, resulting in immense success. With a sharp grasp of leadership, his areas of expertise also include project management, cost optimization & crisis management.

Prior to joining SComm, he served Grameenphone Ltd. and gathered extensive experience in HR operations, HR processes, HR benefits, and Occupational Health & Safety.

Mr. Hossain holds a Bachelor of Business Administration Degree and a Master of Business Administration degree from the University of Dhaka. He also earned the internationally recognized Strategic Human Resource Management certification from the National University of Singapore.